News
28.06.2022
Valmet: "Promeco JTK and its corporate shareholder companies have left us in no doubt of their ability to complete a challenging job with flying colours"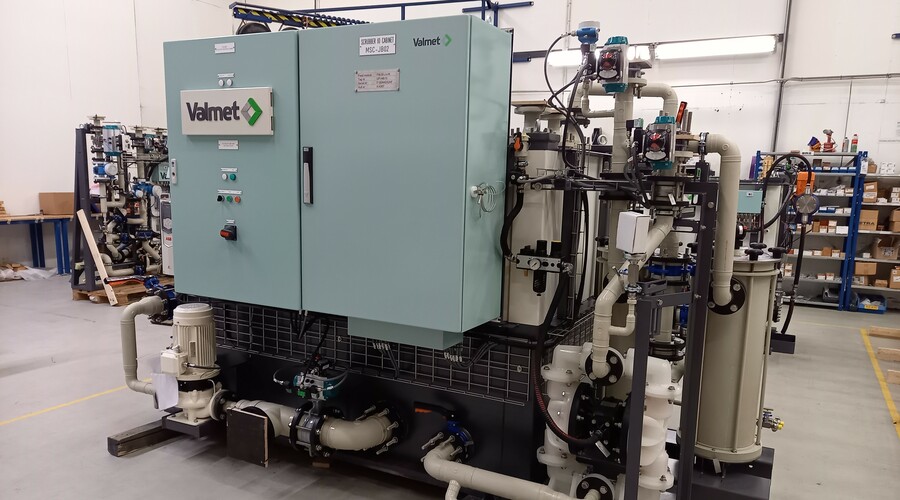 Promeco JTK, together with JTK Power and Promeco Group, acted as the manufacturer in one of Valmet's marine industry projects. They supplied an exhaust gas cleaning system and a water treatment unit for a cargo ship belonging to one of Valmet's customers. The water treatment unit, designed by Valmet and manufactured by Promeco JTK, purifies the contaminated water from exhaust gas scrubbing. The purified wash water remains in the internal circulation of the system.
"Commonly used open-loop scrubber systems discharge the resulting dirty water overboard. With our water treatment unit, no pollutants end up in the sea. The clean water from the water treatment process can be reused in the exhaust scrubber system. There is very little sludge, so our customers save on both sludge storage and post-treatment costs," says Riku Vuori, Engineering Manager at Valmet.
Multidisciplinary expertise and a comprehensive partnership
Promeco JTK is a company owned jointly by JTK Power and the Promeco Group. In Valmet's project, Promeco JTK took care of the assembly of the water treatment unit and its mechanics and pneumatics, while JTK Power handled the production of metal parts and the Promeco Group did the electrical work. Antero Tolvanen, Technical Supervisor at Promeco JTK, believes that the expertise offered by the several companies is an unbeatable advantage for the customer.
"Together, we can meet our customers' needs even in the most demanding projects. We offer expertise from several different sectors all under one roof, which frees our customers from having to deal with several different subcontractors. In addition, our internal cooperation makes it easy for us to be flexible – we may, for example, source a missing component in-house from just a few kilometres away."
In the project, Promeco JTK was a direct partner of Valmet. According to Harri Limo, Project Manager at Valmet, they wanted a company that could offer them a comprehensive partnership during the project.
"Promeco JTK provided us with specialist know-how in more than just mechanics. Promeco has outstanding expertise, for example, in electrical connectivity. JTK Power, on the other hand, impressed us with their initiative. They immediately had a couple of ideas for development and contacted us about them. They didn't just ruminate on the challenges at hand, but proposed solutions for them."
Promeco JTK to play an even bigger role in the manufacture of a water treatment unit
According to Riku Vuori, the operation of Valmet's pioneering water treatment unit is based on a simple technology that has been proven to work in the paper industry. The product is both reliable and easy to maintain.
"We have a lot of confidence in this product and believe it has the potential to be the next big hit in the industry."
According to Antero Tolvanen, one of the best aspects of this innovative product that combines many different sectors is its eco-friendliness.
"The water treatment unit is connected to an exhaust gas cleaning system, which makes shipping compliant with the regulations of IMO (International Maritime Organization) and provides us with cleaner air to breathe."
According to Harri Limo, they are planning to produce this water treatment unit in series in the future.          
"In the future, we intend to provide a single-window service. We are very pleased with this project. It went extremely well and provides a good basis for our future cooperation. Promeco JTK, JTK Power and the Promeco Group have done an excellent job and have been able to work flexibly even under tight deadlines. They have left us in no doubt of their ability to complete a challenging job with flying colours."